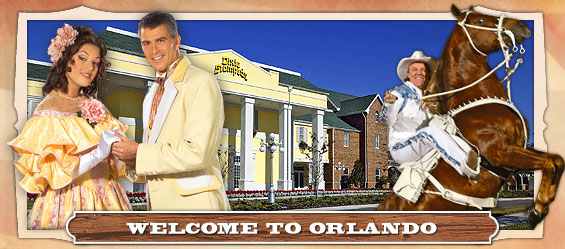 Billy Boy's Discount Tickets
Toll Free: 1-800-544-7646
Local: 407-396-4009


Dolly Parton's Dixie Stampede Orlando Dinner and Show open in Central Florida. Appealing to people of all ages, the show is set as a friendly rivalry between the North and South. Entertainment includes: magnificent horses, opening act, Stampede of the Buffalos, featuring American Buffalo,

animal races, music, singing and dancing, a patriotic finale, and audience participation. Dolly Parton's Dixie Stampede Orlando Dinner and Show.

Discount Dolly Parton's Dixie Stampede Dinner and Show tickets are discounted for one simple reason - we buy in bulk. We can buy tickets cheaper so we can sell tickets cheaper. You pay a discounted price and we delivery the Florida discount tickets to you. You have a wonderful time with your Dixie Stampede Discount Tickets and and all of the other Orlando Florida Dinner Show Tickets, and there are other Florida Attraction Discount Tickets.
A fabulous four-course feast is served during the Orlando Dinner Show Dixie Stampede features creamy vegetable soup, hot home-made biscuit, tender whole rotisserie chicken, hickory smoked barbecue pork loin, buttery corn on the cob, herb basted potato, hot apple pastry, and unlimited beverages.

This show now includes 2 glasses of beer or wine per adult admission during the show.

Dixie Stampede Menu

Dixie Stampede Show Schedule

Dixie Stampede Map Directions




After all, it's more than a show…it's a Dixie Stampede Adventure of a lifetime!
Dolly Parton's Dixie Stampede Orlando Dinner and Show where you'll feast on a mouth watering four-course meal while witnessing a spectacular 32-horse show themed in a friendly North/South rivalry. There is plenty of new fun this season plus the great trick riding, buckboard racing, ostrich races and wholesome comedy you'll love in our huge 35,000 square foot arena.
Beginning in November and continuing through the month of December, Dixie Stampede is transformed into a holiday fantasy with twinkling lights, old-fashioned Christmas costumes and holiday music. Elves from the North and South Poles compete in a friendly rivalry while serving up a festive Christmas feast. The dramatic live Nativity scene is spectacular with three kings atop live camels, shepherds and their flock.

"The Most Fun Place to Eat in Orlando!" guarantees Dolly. Dolly Parton's Dixie Stampede in Orlando Florida is located off Interstate 4 between Walt Disney World and Universal Orlando Resort.
Orlando Florida Area Dinner Shows. There are many to choose from with delicious food and spectacular entertainment provide the perfect end to a magical day spent at any of the Florida Area Theme Parks. There are a few to choose from such as Arabian Nights Dinner Show, Pirate's Dinner Adventure, Medieval Times Dinner and Tournament, Sleuth's Mystery Dinner Show, Dolly Parton's Dixie Stampede Dinner and Show, Sea World Polynesian Luau all in the Orlando Florida Area.

Order your discount Florida tickets or call Toll FREE (800) 544-7646