New Broadway Style Musical
Boasting a Broadway style ambiance, Capone's will keep you on the edge of your chair in laughter. Filled with ill-mannered waiters, crap shooters, notorious crime bosses, and frisky customers, anything can happen!
With their 30's black & red outfits sporting black hats let Bunny, Honey & Sunny entertain you with their Chicago style tap dance. As they sing "get yourself an old man", the dingy blond Bunny June clearly stands out as the star of the show.
As the story unfolds, Bunny June Salvatorio meets Fingers in Brooklyn NY (love at first sight). Unbeknownst to Fingers is her sisters intentions to come to live with her in Chicago. Now she must break the news to her newly-wed crap-shooting husband. Trouble is about to break loose in this hilarious new sequel.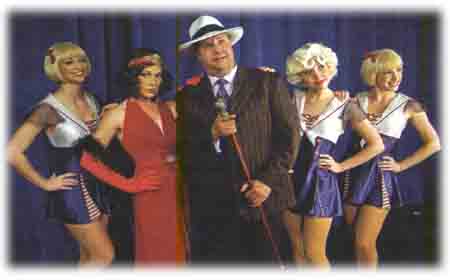 Bugs Moran & gang
All-new dinner-show
Broadway style musical
Hilarious laughs
Night of fun & entertainment
1930's style comedy
High Action & adventure